Jack Lim China Qigong Study Tour Information
JACK LIM QIGONG ACADEMY
CHINA STUDY TOUR OCT 2016
With Qigong Master Anthony Barker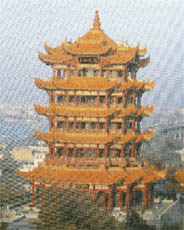 Golden Crane Tower, Wuhan
Highlights:

The 2016 tour takes you to Kunming in south-west China- the City of Eternal Spring. Here in the poetic environment of luxuriant trees and giant bamboo at Green Jade Park, more teachings of Yun Qigong (Yun Gong) will be revealed to you by Grand Master Zhang. You will practice Qigong at the ancient Taoist stone grottoes in the Dragon Gate "Mansion of Heaven", absorbing the nurturing, empowering Qi. Visit also the villages of the ethnic nationalities for their colourful costumes and architecture.
This tour will be an amazing experience; so relaxing and peaceful; rejuvenating and full of fun and adventure.
Enquiries: antbarker71@yahoo.com.au
Please contact Jack's China tour organiser Jing at zangrenzuo@yahoo.com.cn for other services such as other boutique tours, private tours, and business tours and consulting.