Jack Lim China Qigong Study Tour Information
TIBET TOUR
June 10-29 2006
TAOIST CENTRE * TERRA COTTA WARRIORS * GREAT WALL* QIGONG CLASS…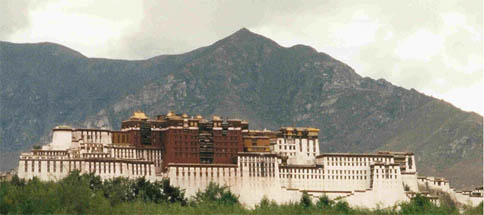 The Potala Palace-Lhasa Photo by Jack Lim 1993
Lhasa, the heart and soul of Tibet, the object of devout pilgrimage, this city of wonder- awaits your arrival!
Visit the Potala Palace, this soaring landmark of LHASA You will be here, at the Jokhang Temple, the spiritual centre of TIBET. You will sit with the monks at the great Drepung monastery as they chant their prayers. In Beijing you will see the magnificent Great Wall & have a QIGONG CLASS; in central China you will absorb the powerful Qi energy at the Green City Mountain Taoist Temple, see the TERRA COTTA WARRIORS at Xian; and be at the great modern city of Shanghai!
Arriving at Lhasa Gongar Airport from Chengdu, you will be met and transferred by bus to Lhasa city. Lhasa is higher than the airport, and you will take some time to rest and accustom yourself to the high altitude.
Visiting the wonder-world Potala Palace, you will pinch yourself to make sure you are not in a dream. You will really climb up inside the palace and view the very sacred ancient treasures of Tibetan Buddhism. Johkan Monastery is nearby, the most famous and oldest temple in Lhasa. Gleaming pure gold-covered ornamental religious objects adorn the roof and the soaring eaves. Incense and smoke from scented plants waft in the air. Devout pilgrims prostrate themselves on the well-worn stone slabs in front of the monastery... images that will remain with you forever!
Also near Potala Palace is Barkhor Street, the business centre of Lhasa. Visit here again during the tour to make purchases of exquisite artefacts made by Tibetan craftsmen-during your fist visit browse around first.
Early one morning you to go to Trupeng Hill to visit Drepung Monastery, which is one of the tour great Gelugpa monasteries in Tibet. If we are early, we may be able to sit inside and listen to the prayer chanting of the monks. As you are leaving, standing at the temple doors, you will be struck by the awe-inspiring sight in the distance, a horizon adorned by crystal snow peaks.
Of course, a must is a visit to Norbu Linka, the special garden and sacred buildings built in times long gone by to enable the Dalai Lama to recuperate. It is actually now the Summer Palace, and the ordinary people are able to join in festive activities there too.
Cost is in two sections:
No.1 Airfare $1350, flying Air China, includes Visa fee, taxes and travel insurance.
No.2 Costs in China including all accommodation (twin share) transport, meals, fees and tickets for training, sightseeing & entertainment US$2,100 @0.75 rate=A$2800
Total Cost approx:A$4150
Book Now! Reservations: Non-refundable cheque of $200 to Jiangsu China Travel Service 8/F 454 Collins St. Melbourne. Director John Zhang: (03) 9600 1806
Enquiries: Contact Jack Lim, Phone/fax: (03): 9836 6961 M: 0413 036 580. Please phone before faxing.
Participants from overseas, join tour in Beijing; to book, email Jack to reserve seat and send deposit. US$200.
Please contact Jack's China tour organiser Jing at zangrenzuo@yahoo.com.cn for other services such as other boutique tours, private tours, and business tours and consulting.