Jack Lim China Qigong Study Tour Information
CHINESE REFLEXOLOGY & QI ENERGY TOUR
CHINA 2009
Programme arranged by Qigong Grand Master Jack Lim & Deborah Johnston - Reflexologist & Tour Coordinator in Austrlaia
April 28 - May 16 2009
Tour Guide in China - wonderful Jing - "Mr No Problem" - an expert in Chinese Culture & English
Director: Beijing Cultural Interchanger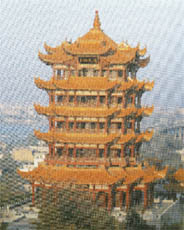 Golden Crane Tower, Wuhan
Highlights:

Beijing - Tai'An - Qufu - Hangzhou - Shanghai
• Traditional Chinese Reflexology Treatments, Demonstrations & Lectures
• CRA – China Reflexology Association & TCM Training Centre - BEIJING
• Shanghai University of Traditional Chinese Medicine – SHANGHAI
• TAI-AN College of TCM
• Qigong Training with Grand Master
• Forbidden City – Summer Palace
• Great Wall of China ½ day
• Sacred Confuscious Temple
• Shopping !!

Don't miss out – BOOK EARLY
20 places only !
CLOSING DATE 20TH March 2009
China is truly an "amazing" country where you will go back to the origins of reflexology & health, you will gain Reflexology/Acupressure training & Qigong classes to build up and strengthen your own Qi. Experience many treatments of Traditional Chinese Therapy. Totally an unforgettable experience ! Plenty of WOW factor in China !
In Beijing, you will attend 2 days of Reflexology training with Chinese Reflexologists at the Student Training Centre of the China Reflexology Association. At Shanghai University of Traditional Chinese Medicine attend 2 formal lectures by senior TCM lecturer – who teaches Reflexology to International students, receive a Chinese certificate. Walk up the GREAT WALL – a breathtaking experience !
Qigong training by Grand Master, practice Shantong techniques to heal & strengthen your Qi. In Tai'An, visit the highest mountain in China – a Holy Buddhist site.
Also enjoy two concerts of Chinese music, dancing, visit local villages, have a drink at a Chinese bar, & lots of shopping ! Plus many more oriental delights & surprises !
Total Cost: AUD$ 5,095 (Please see your accountant regarding tax deductability)
"Everything" is included in the total price:
(*subject to changes with exchange rates & fuel increases)
Inclusions are: Return Airfares*, 4½ star Accom – Twin Share, All Meals, All Plane, Train & Bus Travel, All fees for Reflexology Lectures & most treatments, Entry Tickets to all Tourist attractions, Entertainment, Visa fee & all Airport Taxes. (Group Airfare rates are secured*)
With the exception of: *Dinner & Drinks at Hutong – Beijing. Tour Guide tipping, Travel Insurance is your own expense, & Single room supplement is AUD $700 extra - if you prefer your own room.
BOOKING FEE Cost: AUD $30.00
AIRFARE* Cost: AUD $1565
CHINA LAND Cost: AUD $3500
AIRLINE – AIR CHINA
Important :
1. Booking Fee – must be paid by 15 th Dec 2008
2. Return Airfare-must be paid in full by 10th Feb 2009
3. China Land Costs – must be paid by 1 st March 2009
ALL ENQUIRIES & BOOKING FEE - SEND TO:
Deborah Johnston –
Tour Coordinator & Reflexologist
feet sanctuary
161 Canterbury Rd
Toorak VIC 3142
m: 0402 065 684
e: feetsanctuary@optusnet.com.au
AIRFARE & CHINA LAND COSTS SEND TO:
Jiangsu China Travel Service
Level 4 –
350 Collins St Melbourne VIC 3000
P: 03 9600 1806 F: 03 9600 1785
Attention: Mrs. Jojo Yan Zhao – Marketing Manager
Tour Coordinator & Reflexologist:
Deborah Johnston
feet sanctuary
m: 0402 065 684
e: feetsanctuary@optusnet.com.au

Deborah at the Great Wall 2007
Enquiries: Contact Jack Lim
Please contact Jack's China tour organiser Jing at zangrenzuo@yahoo.com.cn for other services such as other boutique tours, private tours, and business tours and consulting.